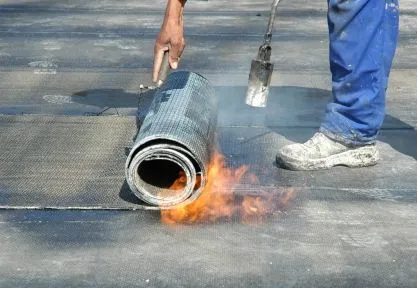 We are the roof-waterproofing experts. As your roof is the only thing between your building and the elements, it is important that it be waterproof. Roofs are both insulated and waterproofed. The insulation process is done first, then the waterproofing. Over time, the waterproofing layer of the roof becomes worn and eventually may be compromised.

If you are seeing signs of water leakage on your ceilings or walls, then your roof may be leaking. Our experienced roofers can quickly locate the leak, give you an estimate for fixing it, and provide some kind of temporary fix. Repairing roof leaks quickly in commercial buildings is critical because if the roof collapses, then it will cause significant damage to your tenant's property and may shut down their operations.

If your roof is more than ten years old, you may be at great risk for a roof leak. We can perform a formal assessment on your entire roof system that outlines the structural condition of your roof and any items that are in need of repair. We offer fair prices and quality workmanship. We also offer several waterproofing options to suit every budget and roof type. We are here to assist in making the right choices for your building.