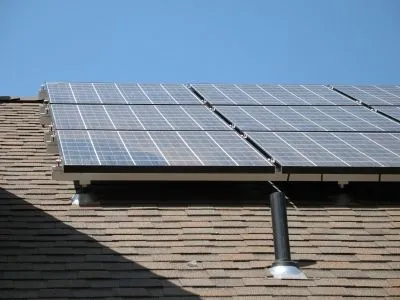 Going green is no longer a trendy attitude. Not considering green alternatives is considered by some to be irresponsible. We support the green initiative and seek to offer many environmentally friendly options for our customers. Going solar is not only environmentally friendly; it is also cost efficient.

We install the latest technology in solar panels that fit the exact shape of your roof. This allows the solar system to completely blend in with the style and architecture of your building. We offer both the traditional solar tiles that sit on top of your roof and the ones, which are integrated into the roof. We feel that the best benefit of solar to our customers is the ability to actually spin your meter backwards and sell electricity back to your utility company. This allows you to sell energy back to the power company during the winter months to help soften the blow of the increased electricity costs during the summer whne running the AC non-stop!
Give us a call for more information and a free solar consultation. We also assist our customers with applying for and state or local credits or rebates available. The Federal Investment Tax Credit that allows for a tax credit of 30% of the cost of installation. The 30% Investment Tax Credit for solar energy property has recently been extended through December 2016. The bill allows the ITC to be used to offset regular and alternative minimum tax (AMT). Clearly, installing a solar roof is a great benefit to our customers. Please give us a call for more information.